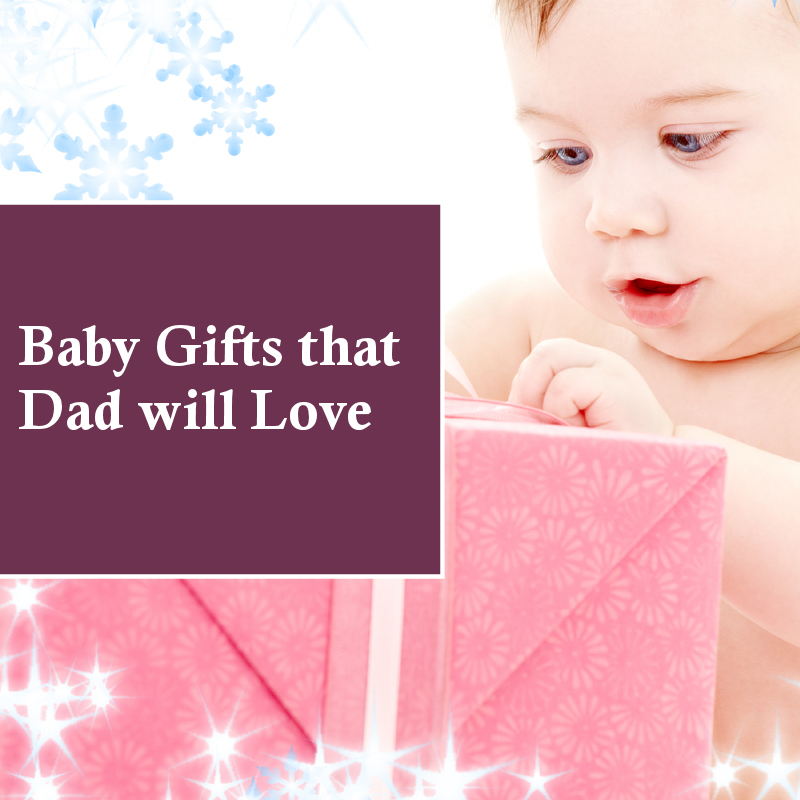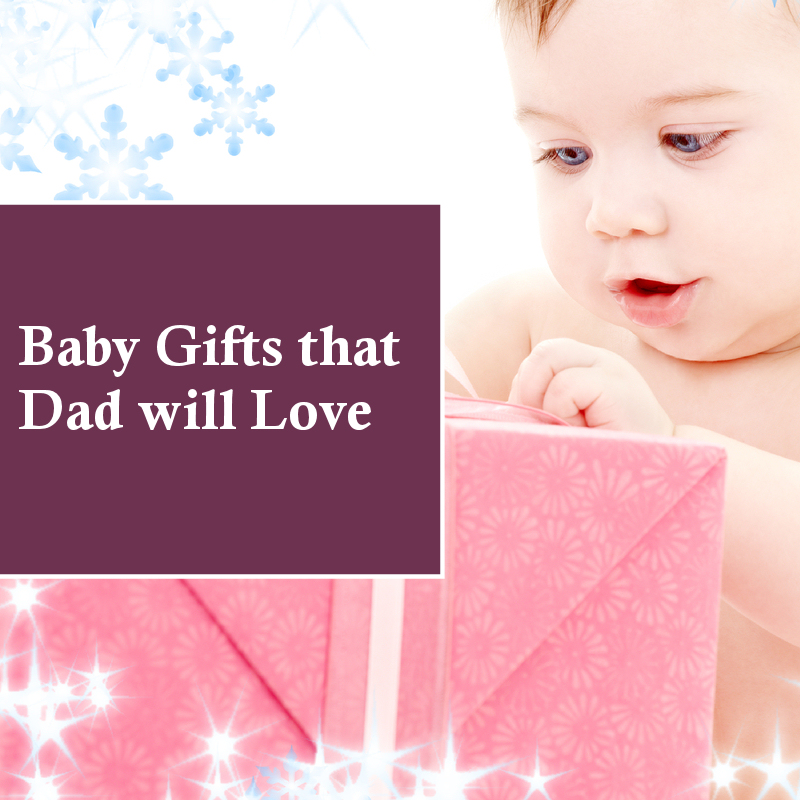 Forget the frilly pink dresses.  While these are the types of unique baby gifts that give mum happy tears, for dad it's not such a wondrous moment. In a couple of years he'll come to love his time in a tutu, but for now the thought of pink tulle sends shivers down his spine.
Mum gets plenty of gifts (deservedly so), but just a few gifts aimed at dad would not go astray.  So how do you choose a baby gift to make dad really smile and not just that "ahh great" smile?
Buying a Baby Gift is Easy Enough
Buying a gift for baby can be easy enough – you'll find something cute at your favourite store. Buying a gift that dad will love may take a little more time and thought but will always be remembered.
Some dads like practical gifts like a nappy bin or even a box of nappies. While it's appreciated, it doesn't really bring too much excitement…"woohoo a box of nappies!"
You are just about guaranteed to get a big smile from dad if you buy a themed baby gift. To pick your theme, think about what dad likes most – after all this bub is going to be a chip off the old block…well so he hopes anyway.
Is dad an outdoors man? Then buy something practical and useful, for when the child is older that the dad can teach them how to use, like a utility axe. Or a crossbow. Ok, maybe not, but perhaps a My First Swiss Army Knife would be the go.
Car dads, science dads, music dads, handy dads, sci-fi dads, gardening dads, worker dads… the perfect gift is out there somewhere.
Here are some ideas to get you started:
Themed Baby Outfits that Dad will Love
No matter what dad's favourite team, rockband, tv show or sport, you can find a themed baby onesie that will suit the occasion. There are all sorts of cool baby outfits out there that will be appreciated by dad.  For example, music themedbaby apparel like AC/DC t-shirts, onesies or bibs, car or bike wear like Ferrari jumpsuits, sports wear such as  Bronco jerseys or soccer socks and TV apparel like Doctor Who onsies.  You can even get a little outfit to match dad's job – mechanics overalls, doctors scrubs, suits or police uniforms.
Baby Toys that Dad will Love
You can't go wrong with a good themed toy. Most dads love toys so why not buy something related to dad's favourite thing. Even if bub won't be able to use it yet, dad certainly will.  There are baby tool kits, tin toys, wooden toys, soft sports balls, baby guitars and motorised bikes or cars (and yes there are plenty of pink ones). Dads love big tonka trucks too. Especially ones big enough to put bub in and zoom them around the lounge room.  Reading to a baby is one of lifes simple pleasures. So if for example dad likes Star Wars check out Darth Vader and Son.
Memorabilia as a Baby Gift
Sports lover dads are generally easy to buy for, and with a little extra thought you can make a truly memorable gift – think about major events or victories in the year of the birth and go from there.  Does dad like cricket? Who did Australia beat this year? Did dad attend any of the games? Can you get a bat signed by the players?  Who is dad's favourite player? Can you get a baby book signed by one of the players?
Memorabilia is also great for a tv/movie/music buff or comic dad. Think about something that came out in the year dad was born or the year bub was born. Or pick something that relates to a story about dad that he will someday share with his little one  (but not about that night when he… yeah you know the story).  For something music related, you could also get something just for baby, for example a Rock Lullaby CD… which gives homage to dad's favourite band but is just for bub.
Still stuck for ideas for a baby gift?
Did I mention toys? Most dads love toys, so buying a few toys of any sort for when bub is older is always good. A manly nappy bag is handy too. Yes, I wrote that. When coming up with your baby gift just always remember the number one rule: no lace, no frills.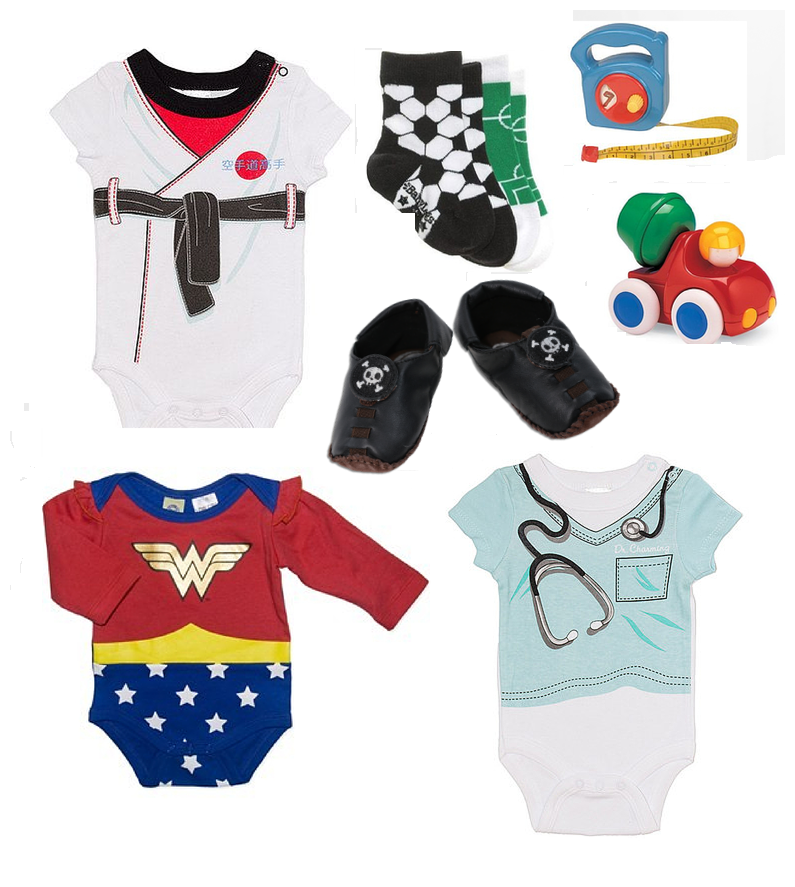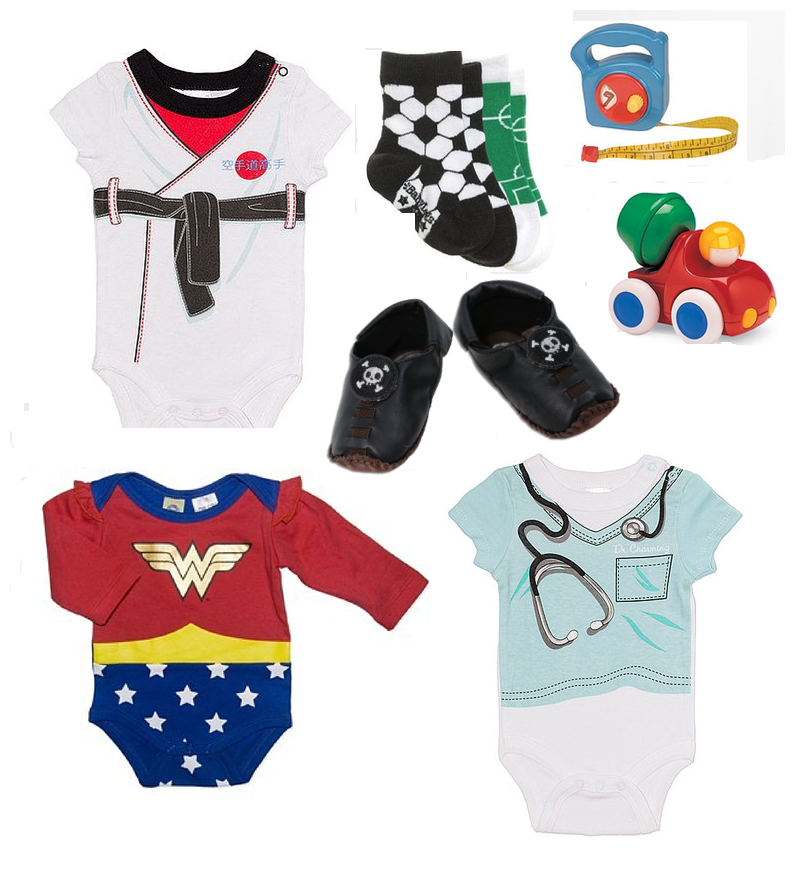 Guest Contributor Joel from Not Another Baby Shop